Check for advance tickets only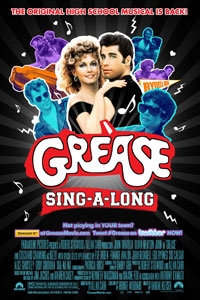 Grease Sing-A-Long
Opens 7/8/2010
Rated PG-13 for sexual content including references, teen smoking and drinking, and language
Rydell High's most famous graduating class is going back to school. A newly restored print brings the highest-grossing musical of all time, GREASE (1978), to the big screen as a sing-along.
CAN'T FIND THE SHOW TIME YOU ARE LOOKING FOR?
We post new schedules on Tuesday evenings for Friday through the following Thursday.
In some cases, advance tickets for future releases will be posted by date.
Closed Captioning and Descriptive Video devices available by request at theater box office.
Find Showtimes & Buy Tickets
*Click on time to purchase tickets