Welcome
Check for advance tickets only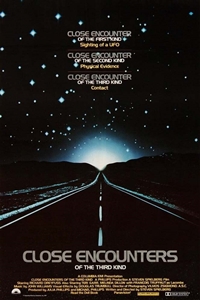 Close Encounters of the Third Kind
Opens 11/16/1977
Rated PG for some intense sci-fi action, mild language and thematic elements
Several civilian people are drawn to a remote corner of the United States where aliens land in their spaceship and parley with U.S. officials.
CAN'T FIND THE SHOW TIME YOU ARE LOOKING FOR?
We post new schedules on Tuesday evenings for Friday through the following Thursday.
In some cases, advance tickets for future releases will be posted by date.
Closed Captioning and Descriptive Video devices available by request at theater box office.
Find Showtimes & Buy Tickets
*Click on time to purchase tickets