Check for advance tickets only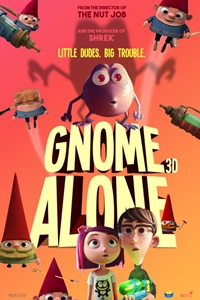 Gnome Alone
Opens
Rated PG for some rude humor/behavior
Chloe and her mom are moving AGAIN! Forced to move into a decrepit old house filled with garden gnomes. Chloe soon discovers that this house is hiding something terrifyingly big. While home alone after school, Chloe and a nosy neighbor named Liam discover that the gnomes are actually alive!
CAN'T FIND THE SHOW TIME YOU ARE LOOKING FOR?
We post new schedules on Tuesday evenings for Friday through the following Thursday.
In some cases, advance tickets for future releases will be posted by date.
Closed Captioning and Descriptive Video devices available by request at theater box office.
Find Showtimes & Buy Tickets
*Click on time to purchase tickets