Check for advance tickets only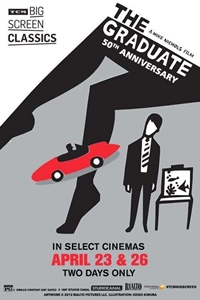 The Graduate 50th Anniversary (1967) presented by TCM
Opens 4/23/2017
Rated NR
Fathom Events, Turner Classic Movies and Studio Canal are bringing The Graduate to select cinemas nationwide for a special two-day event, which also includes an introduction from a TCM host. Dustin Hoffman's Benjamon Braddock, adrift after college, is craftily seduced by Anne Bancroft's icily-assured friend-of-the-family Mrs. Robinson. So it's understandable that Ben's dream girl Katharine Ross is a bit startled to learn that he's sleeping with ... her mother.
CAN'T FIND THE SHOW TIME YOU ARE LOOKING FOR?
We post new schedules on Tuesday evenings for Friday through the following Thursday. In some cases, advance tickets for future releases will be posted by date.
Closed Captioning and Descriptive Video devices available by request at theater box office.
Find Showtimes & Buy Tickets
*Click on time to purchase tickets