Check for advance tickets only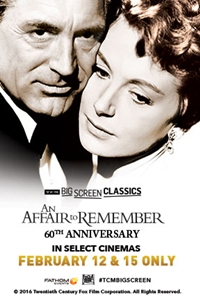 An Affair to Remember 60th Anniversary (1957) presented by TCM
Opens 2/12/2017
Rated NR
Fathom Events, Turner Classic Movies and Twentieth Century Fox are celebrating the 60th anniversary of An Affair to Remember and bringing the iconic movie to select cinemas nationwide for a special two-day event, which also includes a special introduction from a TCM host. Although each is engaged to someone else, Nickie (Cary Grant) and Terry (Deborah Kerr) meet aboard an ocean liner and fall deeply in love. They agree to rendezvous six months later atop the Empire State Building, but tragedy strikes...and the lovers' future takes an emotional and uncertain turn.
CAN'T FIND THE SHOW TIME YOU ARE LOOKING FOR?
We post new schedules on Tuesday evenings for Friday through the following Thursday. In some cases, advance tickets for future releases will be posted by date.
Closed Captioning and Descriptive Video devices available by request at theater box office.
Find Showtimes & Buy Tickets
*Click on time to purchase tickets