Welcome
Check for advance tickets only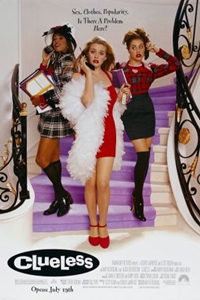 Clueless
Opens 7/21/1995
Rated PG-13
Cher and Dionne are pampered upper-class girls who care less about getting good grades than wearing the right clothes and being as popular as possible. But Cher also has an innate urge to help those less fortunate. Cher also possesses her own sensitive side, and she is looking for the perfect boyfriend, whom she ends up finding where she least expected.
CAN'T FIND THE SHOW TIME YOU ARE LOOKING FOR?
We post new schedules on Tuesday evenings for Friday through the following Thursday.
In some cases, advance tickets for future releases will be posted by date.
Closed Captioning and Descriptive Video devices available by request at theater box office.
Find Showtimes & Buy Tickets
*Click on time to purchase tickets